19–21 September 2018 | ICC, Sydney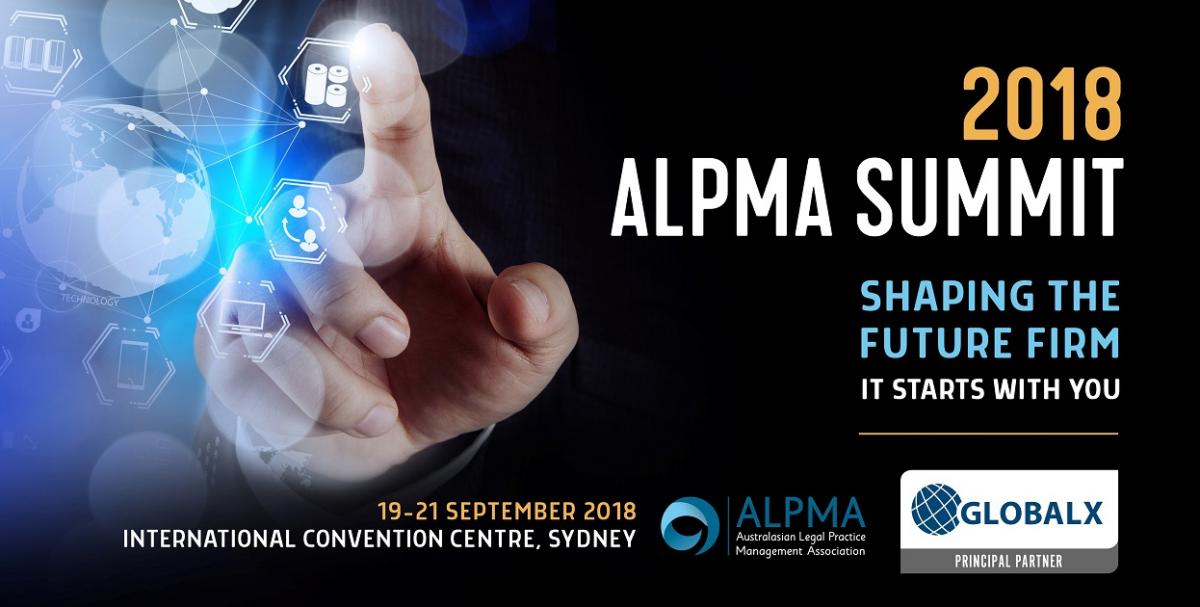 The 2018 ALPMA Summit was an inspiring three days of thought leadership consisting of seminars, workshops and networking that pivoted around the central topic of the "Firm of the Future".
A broad range of high profile speakers shared their insights not only into what is happening in the legal space right now, but also what they believed the disruptors would be in the coming 5-10 years and most importantly how to plan for these changes now. The program not only challenged delegates to think about how to achieve healthy profit margins for their firms today, but to think outside the box and start planning for healthy profit margins in the future. It is fair to say that this planning needs to commence today (as there is much to consider & plan for) in order for Firms to remain relevant well into the future.
The ALPMA team would like to thank our fabulous speakers, delegates and partners for their continued support of our annual Summit program.
Summit Research: What is Shaping the Future Firm?
The 2018 ALPMA GlobalX research project poses this question to Australasian law firms:
"Are you ready for the future?"
New technologies, systems and shifts in culture are pushing law firms and the legal industry to quickly adapt. But how agile are our businesses – and how prepared are we for these changes?
The 2018 ALPMA Summit was designed to help Australasian law firms and departments future-proof their business.
ALPMA/LexisNexis Thought Leadership Awards
Congratulations to the 2018 ALPMA + LexisNexis Thought Leadership Award winner, Adieu Legal, for their Consensus Accelerator platform and to our other finalists Lawyers On Demand, LegalVision and Mills Oakley. Adieu Legal's winning project is a collaborative divorce platform, combining artificial intelligence with family law experts to create a 'consensus accelerator', reaching property and financial settlements in a fraction of the traditional time.
Winner: Adieu Legal – for their Consensus Accelerator platform
Finalist: Lawyers on Demand – Secondment Solutions service
Finalist: LegalVision – for their Client experience and transformative technology projects
Finalist: Mills Oakley – for the Accelerator partnership
Watch the videos below to hear our 2018 Award Finalists discuss their innovative project.
Thank you to our partners for their support
Thank you to our Principle Summit Partner GlobalX
Thought Leadership Awards Partner LexisNexis
6-8 September: 3 days, 30+ sessions, 45 speakers
Learn how to build The Sustainable Firm of the Future and experience the "Gala Glitz and Glamour" at this year's dazzling ALPMA Awards Gala Dinner - places now limited!