The 2011-2019 ALPMA Thought Leadership Awards shone a light on innovative projects and new initiatives being conducted by firms across the legal sector in response to the changing legal landscape and provided recognition for firms and legal departments who had successfully implemented innovative projects and strategic initiatives in response to the challenges facing the Australasian legal industry. Awarded in conjunctions with the Though Leadership Partner at the annual ALPMA Summit.
Eligibility
Law firms and legal departments were encouraged to self-nominate.  Suppliers who had successfully implemented innovative projects at a law firm or legal department could also nominate their client for an Award, provided the client has consented to be nominated prior to the nomination being submitted.
Judging Criteria
Any kind of project or initiative undertaken by an Australasian law firm or legal department is eligible for nomination for a Thought Leadership Award as long as it meets the following criteria:
Must be implemented in the last year
Must demonstrate leadership or innovation (ie a new or different way of doing something) in response to the changing legal landscape
Must be able to demonstrate real benefits (in terms of time or cost savings, productivity gains, quality etc) and show a positive impact for staff, employees and/or partners/ owners as a result of the project
Must be undertaken at an ALPMA member's law firm or legal department – so make sure you are signed up as an active ALPMA member! Join Now
See past Awards & Winners below.
2019 ALPMA/LexisNexis Thought Leadership Awards
ALPMA was delighted to welcome back LexisNexis as our Thought Leadership Awards partner in 2019. The 2019 Awards were presented at the 2019 ALPMA Summit Gala Dinner on Thursday, 5 September 2019 at the Melbourne Convention & Exhibition Centre.
The 2019 ALPMA/LexisNexis Thought Leadership Awards judging panel is comprised of experienced legal innovators and thought leaders:
"As Managing Director of LexisNexis Australia, Simon is responsible for supporting the delivery of innovative solutions that provide exceptional value and support the growth of the Australian legal industry.
Under Simon's leadership, LexisNexis Australia is focused on providing the best legal content enabled by cutting edge technology, as well as ensuring the growth of comprehensive and reliable practice management software solutions.
Simon has extensive experience in and around the Legal industry. Prior to joining LexisNexis, he led the sales business at CCH Australia and before that held senior commercial roles at Pearson and McGraw Hill in Europe and Australia."

Simon Wilkins

Managing Director Australia, LexisNexis Pacific
"Shelley founded Legal Circles in 2001, to help lawyers have better businesses and more satisfying careers. Shelley was admitted as a lawyer in 1981 and has been a partner of a mid-sized Australian commercial law firm, and freelanced as a "locum" lawyer.
In addition to her credentials in Law, Shelley holds formal qualifications in Marketing. Shelley is a Life Member of ALPMA."

Shelley Dunstone

Principal, Legal Circles
"Shirley has a strong reputation for her ability and discipline in assisting businesses to embrace and successfully implement change programs.
Shirley is well known within the legal fraternity, having worked in a variety of senior management roles with Wisewoulds, Freehills and Maddocks before her current part-time role role at Cornwall Stodart. Shirley also consults to law firms on process reengineering, project implementation, change and risk management through her consultancy Hamel Consulting Services."

Shirley Hamel

Director of Operations, Cornwall Stodart
"As the Director for the Centre of Legal Innovation, Terri works internationally with leaders of law firms, legal associations, law schools, and lawyers, supporting their transition to, and building a pipeline of exceptional talent for, new law. She has been a thought leader and innovator in legal strategic talent management and development for more than 20 years.
Prior to joining the Centre, Terri was a practising lawyer and subsequently led the in-house talent management departments for firms and associations including Lex Mundi, IPBA and DLA Piper LLP (US). She has also led or taught on practical legal education initiatives in law schools in Asia, Australia and the US. In 2010, Terri founded Mottershead Consulting in the US, and later expanded it to Australasia."

Terri Mottershead

Director, Centre for Legal Innovation, College of Law
"Greg is the Managing Director of the LexisNexis Pacific Business, which includes Australia, New Zealand and the Pacific Islands. He has a combined twenty years of professional experience in technology, solutions and product management. His last positions were with CoreLogic RP Data as Chief Technology Officer and Head of Product & Solutions. He has several patents in his name and is well known for integrating technology vision with business outcomes"

Greg Dickason

Managing Director, LexisNexis Pacific Business
2018 ALPMA/LexisNexis Thought Leadership Awards
Winner: Adieu Legal – for their Consensus Accelerator platform
Finalist: Lawyers on Demand – Secondment Solutions service
Finalist: LegalVision – for their Client experience and transformative technology projects
Finalist: Mills Oakley – for the Accelerator partnership
Watch the videos below to hear our 2018 Award Finalists discuss their innovative project.
2017 ALPMA/LexisNexis Thought Leadership Awards
Winner: Mills Oakely, for their Innovation Accelerator
Finalist: Proximity, for their Procurement-As-As-Service offering
Finalist: Legal Economy, for their digital platform to brief barristers
Finalist: Bannermans Lawyers, for the Bannermans Compliance Pack
2016 ALPMA/LexisNexis Thought Leadership Awards
Winner: Maddocks
Finalists: Bytherules Conveyancing
Finalists: Nexus Law Group
Finalists: Hall & Wilcox
2015 ALPMA/InfoTrack Thought Leadership Awards
Winner: LegalVision
Finalist: RMB Lawyers
Finalist: The Conveyancing Shop
Finalist: LawLab
2014 ALPMA/Telstra Thought Leadership Awards
Winner: Hive Legal
Finalist: AdventBalance Lawyers
Finalist: P D Law
Finalist: Swaab Attorneys
2013 ALPMA/Telstra Thought Leadership Awards
Winner: Anderssen Lawyers
Finalist: Bennett + Co
Finalist: Hall & Wilcox
Finalist: Emil Ford Lawyers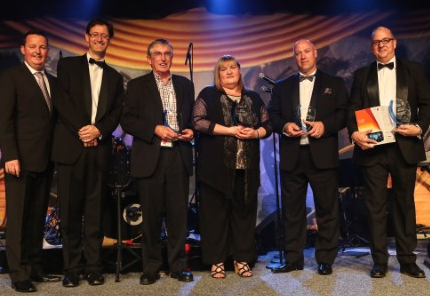 6-8 September: 3 days, 30+ sessions, 45 speakers
Learn how to build The Sustainable Firm of the Future and experience the "Gala Glitz and Glamour" at this year's dazzling ALPMA Awards Gala Dinner - places now limited!