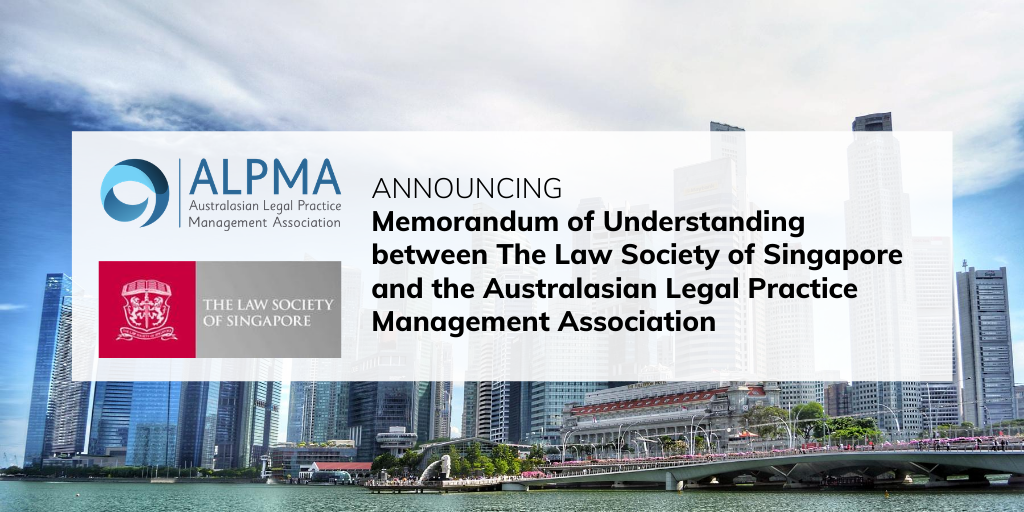 The purpose of the Australasian Legal Practice Management Association (ALPMA) is to encourage and promote legal practice management skills and education within the legal industry so we are delighted to announce that, in alignment with our goals, we have entered into a Memorandum of Understanding ("MOU") with the Law Society of Singapore to formalise our collaboration and partnership.
The Law Society of Singapore's purposes include, inter alia, maintaining and improving the standard of conduct and learning of the legal profession in Singapore, and facilitating the acquisition of legal knowledge by members of the legal profession.
This shared commitment was marked by an MOU signed by Daniel Koh, Treasurer of the Law Society, and Dion Cusack, President of the ALPMA National Board, on 28 July 2020. The collaboration will drive thought leadership on issues relevant to legal practice management.
Over the past four years ALPMA has held an annual one-day Regional Law Firm Management Forum conference in Singapore which brings together both local speakers and speakers from Australia to discuss legal practice management and "Business of Law".
The Law Society and ALPMA are committed to collaborating and promoting education and training in legal practice management and leadership – creating learning pathways and networking opportunities for lawyers and Allied Legal Professionals (corporate staff who work with lawyers within law practices).
ALPMA is very happy to be signing this Memorandum of Understanding with The Law Society of Singapore. We have enjoyed a great relationship with our Singapore colleagues over the years in particular through ALPMAs annual Regional Law Firm Management Forum and we're delighted to be collaborating further in the future.
– Emma Elliott, ALPMA CEO
Contact Information