With over 30 years' experience helping law firms grow, a key success criteria observed is the impact when firms understand their key performance indicators and how to source and harness that data. As management guru Peter Drucker said, "If you can't measure it, you can't manage it" and "You can't improve what you don't measure." Over time, a change management program without measurement may destabilise its acceptance and undermine strategy and planning. Conversely, change management based on outdated or incomplete data is also a risk.
Here are five data opportunities you may not have considered to support your 2023 strategy and how FilePro delivers.
Client data
FilePro's extensive client and matter management capabilities provides a complete Client Relationship Management (CRM) solution. This includes features to identify, categorize and understand how to engage with your firm, as well enriching relationships with prospective clients and referrers whilst managing a team's pipeline of new client opportunities.
Team performance
Tailored dashboards by staff member, role or by team provide transparency and focus on a daily basis, aligning their activity and direction with goals agreed.  This might include simple metrics such as time entry statistics or may be more sophisticated, e.g. of the people that initiated contact with your firm because of your website, how many have been converted into active matters and how much work has been billed, for each fee earner.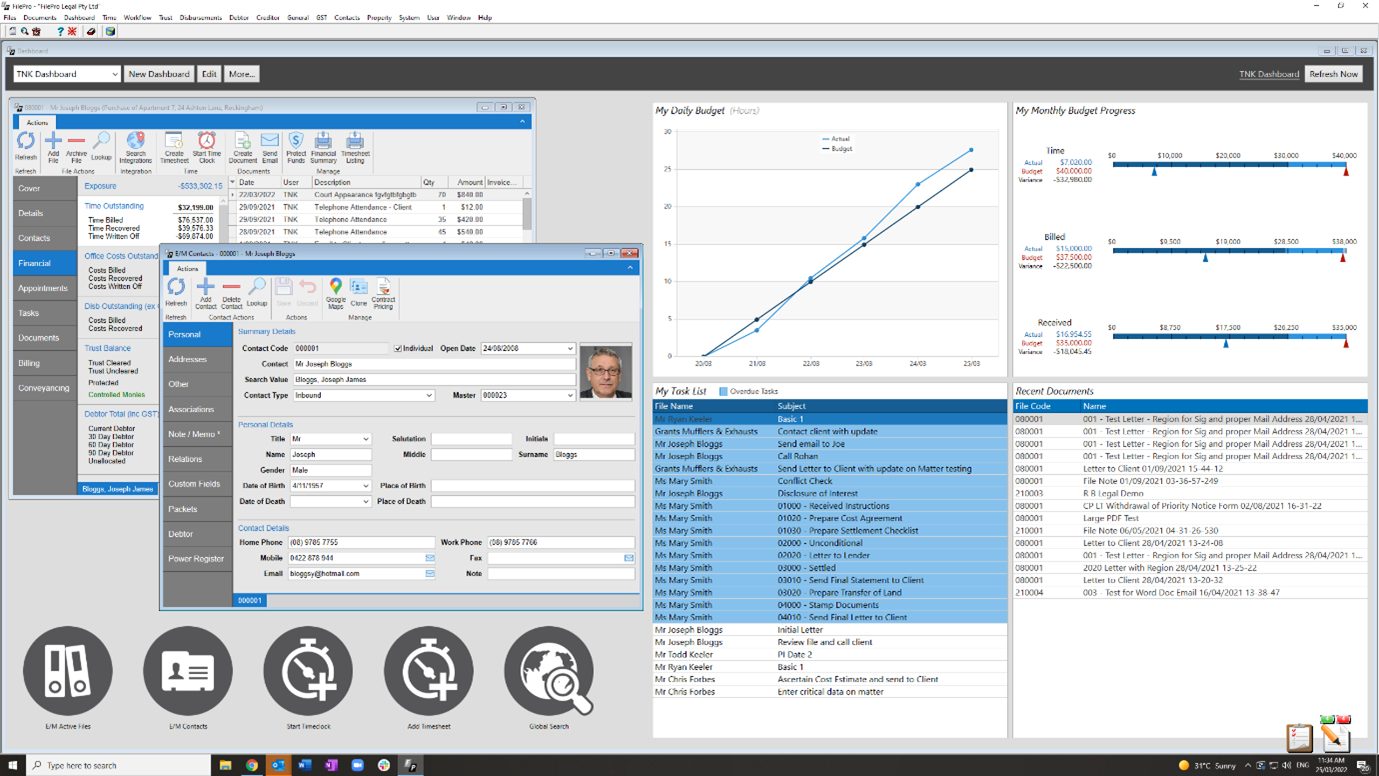 Cashflow/debt recovery
We recently highlighted why it makes sense to have your matter management and accounting system sitting in the same software platform. Ultimately this means you can trust that data on client ledgers, aged reports, reminders and other debtor management tools are accurate and that your staff will not need to ask the accounts team about who owes what. Utilising your practice management software alongside integrated tools should also significantly reduce your average debtor days.
Compliance
Lawyers are held to a high standard of conduct including responsibility for the financial management of client monies and security of client data. A PMS that integrates matter management, general and trust accounts, streamlines transfers between the general and trust accounts with confidence of compliance with state-based law society regulations. It should also have automated tools to flag funds for transfer when invoicing, protect money that should not be used elsewhere and then allow for bulk, automated transfers from trust to general with minimal key-strokes yet with confidence of data security.
Staff satisfaction and retention
Organisations that have made the most progress with staff upskilling programs achieve better business outcomes. These outcomes include a more robust culture, higher productivity, accelerated growth, improved talent acquisition and retention, and more significant innovation with reduced skills gaps.
FilePro's Training Unlimited initiative provides a more flexible way for your staff to discover all the latest features, whether to be more productive or to embed a firm wide consistent understanding of matter and client management without preclusive, user-based costs. Your firm's training nominee has the ability to use this platform to set (for example) induction programs for new staff and can access progress reports by staff member.
Sometimes sitting in on training courses with attendees from other firms will expose your staff to questions, ideas and ways of doing things that you may not have previously considered.
Whatever your growth strategy for 2023 (financial, new business, client satisfaction, staff retention), we recommend that firms lean on their provider. Interestingly, with a fully integrated, intuitive practice management platform, much of the data needed is already captured, just waiting to be used!
To find out more, feel free to contact us about how we can support your success.