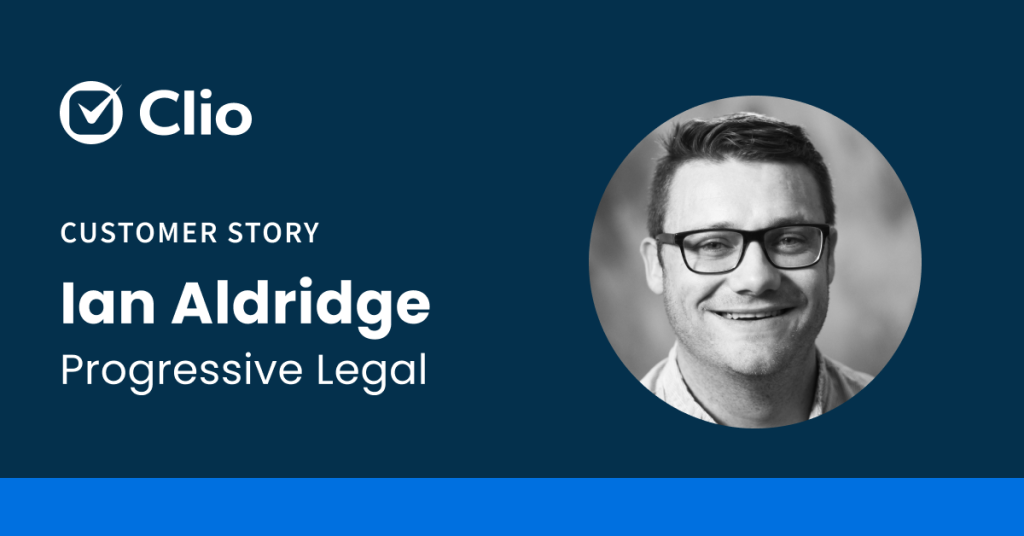 Ian Aldridge founded Progressive Legal in 2014 to drive impact for small businesses and startups.
He had previously worked in BigLaw, where Ian handled everything from general commercial dispute resolution to complex banking/construction and IP litigation in Australia and the United Kingdom. Yet, the bigger the firm, the more pigeonholed he felt, and in large multinational firms and banks, Ian found it discouraging not to see the results of his advice.
From humble beginnings, starting with front-end commercial work and trademarks for startups, Progressive Legal has grown over the past nine years to support clients in almost every aspect of their business—including corporate structuring, intellectual property (and trademarks), privacy, workplace and dispute resolution. And he's not alone—Ian now works with over ten staff members, and Progressive Legal has helped over 3,000 small businesses ("that I can count," he notes!).
Through Progressive Legal's growth, Ian notes, "Clio has been one of the many parts of the business that helps achieve our objectives. It has made a fundamental difference to how we deliver legal services in a timely manner. I'm so glad I found Clio when I did and I don't know what we would do without it now."
How has Clio helped Progressive Legal (and Ian) achieve their objectives? Read on to learn more.
A seamless solution (after years of searching!)
In his 18 years of practice, Ian tried multiple legal practice management software programs and demoed countless more, none of which provided the "wow" factor. He was tired of using clunky, PC-based systems that didn't fit his purposes.
"I was tearing my hair out with the previous practice management system that we were using… it was very '2000 and late'.
As Ian puts it, he "licked a lot of toads" before finding Clio."
So, what features drew Ian to Clio?
With Clio's browser-based system, work happens anytime, anywhere
When Ian first tried Clio, he was struck by the fact that it was browser-based (rather than PC-based, where the software lives on your computer), giving him the flexibility to access Clio anytime, anywhere.
What's more, using a browser-based system meant that Ian could have multiple matters open simultaneously (rather than having to close out and switch between them).
"I liked the ability to operate on multiple different matters at the same time and not have to close out of matters. That sort of flexibility was fantastic. The user experience blew all the others out of the water!"
     3. An easy, accessible system to serve clients with ease
As a small firm that services startups and small businesses, Ian talks to lots of clients daily who need fast and efficient service. Ian was looking for a well-rounded program that would allow him to quickly open up a matter, save documents, and record notes.
"We needed a practice management that was agile, was really fast, and frankly wouldn't shut down on us or lose information or data."
When working with a new client, Ian can take notes, create a new matter, and record time "within minutes" with Clio—unlike other programs he'd previously worked with.
He also loves the Clio Dashboard, which gives you easy, immediate access to relevant information regarding a client's file, including goals, time recording, and even customised budgets. As Progressive Legal works with a mixture of fixed fee and time based billing, the ability to create 3 different types of invoices for their various work was a plus.
"There's a lot of clever stuff that Clio has come up with—really, the A-B-Cs of what you want a practice management program to do. You can see that they've worked hard at ticking those off."
Flexible and transparent plans with no locked-in contracts
In the past, Ian encountered practice management software with questionable pricing plans. For example, one program charged him a fee every time he opened a file. In a firm like Progressive Legal, where records range from billable client files to one-off records relating to complementary advice, such a pricing plan was unacceptable and could even disincentivise firm employees from tracking valuable client information.
With Clio, Ian knows what he's paying for—he pays by user, and there are no hidden fees.
"There are no locked-in contracts with Clio, and you pay by the user. This stood out so much as being the new way of selling software as a service."
Progressive Legal stands by its services and commitments, and so does Clio
Progressive Legal stands by its services and honours its commitment to clients—when Ian realised that Clio held the same values, he was hooked. It was clear to him that Clio stands by its product. Unlike other practice management software he'd encountered, which locked him into long contracts or "held his data hostage" if he chose to leave, Clio offers seamless exits for unsatisfied law firm clients.
Clio stands by its product, and that was really clear, open, and transparent. That just really connected with me because we also stand by what we do.
Managing thousands of leads with ease
Progressive Legal uses the combined powers of Clio Grow and Clio Manage to provide a superior client experience—from lead management all the way to payments. With thousands of incoming enquiries and clients needing onboarding support, Clio Grow has helped Progressive Legal track leads and easily manage client intake.
"We use Clio Grow for all our lead management. It's a brilliant product—there is no better practice management software than Clio, with the ability to track lead generation and thousands of people coming into the pipeline. We've linked Clio Grow to our website so that they are automatically in the system".
Endless integrations and tools for every law firm
Ian is a big believer in "using software for what it's best at." With Clio's 250+ integration partners, Ian has tailored Progressive Legal's Clio experience to provide a customised experience for his firm and clients with other powerful tools. In particular, he loves using Clio's Xero and NetDocuments integration for data management and reporting.
"Clio's integrations mean we can integrate Clio with a whole bunch of other software we have. Even to generate invoices through Clio, we use Xero for our data management, profit and loss, and other reporting and payroll. Clio integrates with Xero so as soon as you generate a bill on Clio, it spits it out automatically on Xero".
For Clio Grow, he's used the Active Campaign integration with great results "it's great to have an open API for that sort of data".
Putting time back in lawyers' hands
The one thing lawyers need more of is time: and that's where Clio truly shines. And it's not just individual lawyers who benefit from Clio's time-saving capabilities – Ian has found that onboarding is easier ("I haven't had one person join the firm and say 'Oh, Clio is hard to learn', unlike the feedback I've gotten with other software") and, with easy access to case information and updates, collectively, Progressive Legal employees can stay on the same page and avoid unnecessary (and, in many cases, unbillable) questions.
"When I first started practising law, it would take 24 hours for a physical file to be opened. Now, it takes no time at all. The ability to see where matters are at from a time and billing perspective without https://www.clio.com/au/even necessarily having to ask someone else within the organisation. It's all open. You can see things really clearly".
Thanks for entrusting Clio with your practice, Progressive Legal. We're so excited to see where the future takes you!