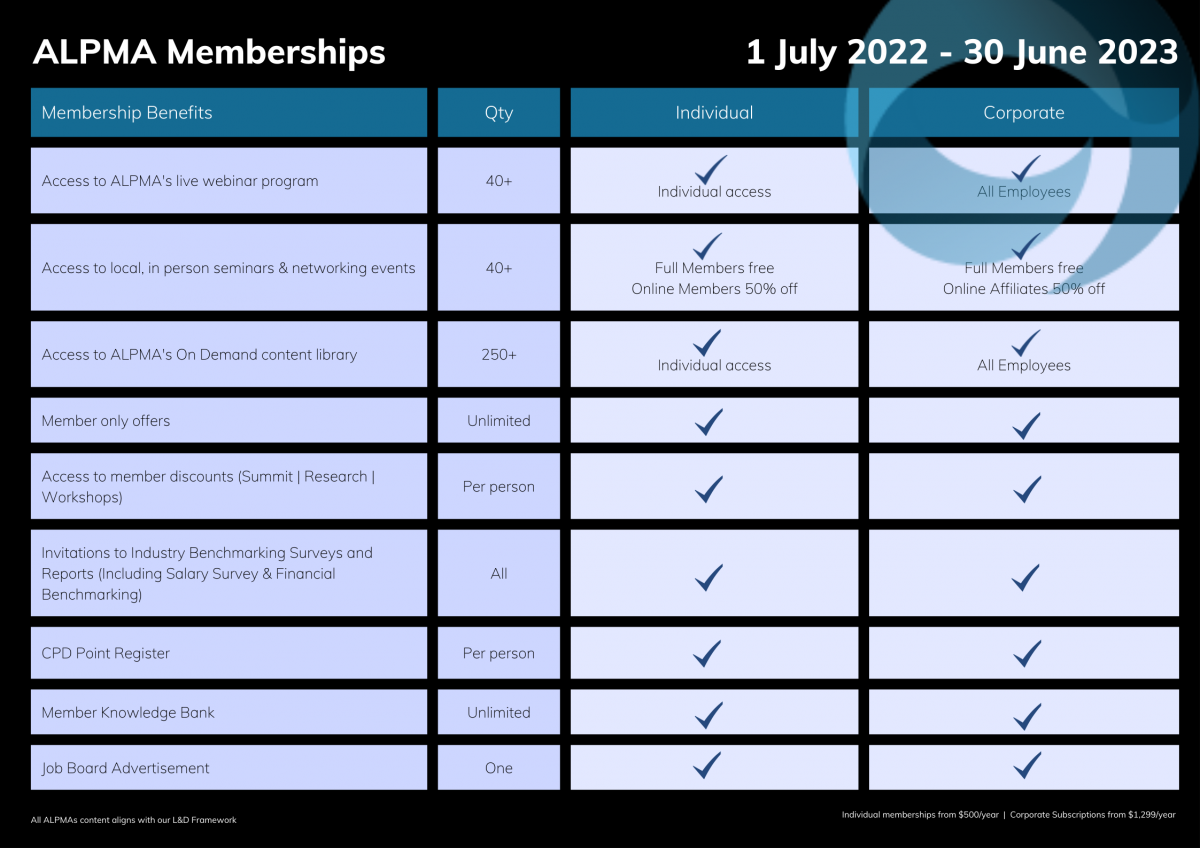 Benefits and Value

Full Member

Online Member

Associate Member

Non Member

ALPMA Webinars

Complimentary access to all ALPMA webinars, which are held regularly

✔
✔
*50% discount
From
$79 per webinar

On-Demand Learning Centre Access

Complimentary access to our library of L&D content via our On-Demand Learning Centre

✔
✔
4 per year complimentary
From
$79 per session

Free CPD Content

Access to CPD accredited content: Practice Management; Professional Skills: Ethics & Responsibility

✔
✔
✔
From
$79 per session

Local Seminar Access

Attendance at any local practice management seminar held throughout the year
NSW | VIC | QLD | WA | SA | NZ

✔
*50% discount
*50% discount
From
$79 per seminar

Member Connect Access

Access to local Member Connect sessions online. These sessions connect local members to discuss a variety of Practice Management topics. Sessions often include guest speakers and presenters

✔
✔
✔
N/A

Member Discussion Forum

Access to the ALPMA Member Discussion Forum where you can have questions answered by our experts.

✔
✔
✔

ALPMA Member Directory

Access to a support network in your area of like-minded legal professionals including access to the ALPMA member directory

✔
✔
✔
N/A

ALPMA Job Board

Ability to advertise job vacancies on the ALPMA Job Board

1 free per year

then $99 per advertisement

1 free per year

then $99 per advertisement

1 free per year

then $99 per advertisement

$199 per advertisement

Legal Industry Benchmarking Research

Access to our legal industry benchmarking research and invitations to participate.

✔
✔
✔
✔

Annual HR Issues & Salary Survey

Discounted purchase price for the annual ALPMA HR Issues & Salary Survey for non-participating members. (This report is complimentary to all participants)

✔
✔
✔
Standard price

ALPMA Summit

Discounted member pricing for the annual ALPMA Summit (a two-three day conference that invests in your Learning & Development). 

✔
✔
✔
Standard price

Mental Health First Aid Training

Discounted Mental Health First Aid Training Course (these are priced per person)


$295
$295
$295
$320

Member Only Resources

Member Only Resources such as:

Legal updates
Templates
Checklists
Partner offers
Other resources

✔
✔
✔
N/A

LawFest Conference Discount

$200 Member Only Discount to the NZ LawFest Conference.

✔
✔
N/A
N/A
An ALPMA Membership is outstanding value for money. All of this is included at no extra cost to you or your firm.  ALPMA memberships are for 6 or 12 months and renew on an annual anniversary basis.  Memberships with ALPMA is with the individual, not the firm.
Please check the Eligibility Criteria to determine which membership is right for you
Special arrangements in place for NZ LAW, Lawlink, Law Plus and Law Alliance NZ members — please enquire for further details.
ALPMA Membership Pricing & Options
Becoming an ALPMA member will deliver exceptional value to you and to your practice.
ALPMA Corporate Subscriptions
We have your firm's learning & development needs covered for all your employees.