Effective business development and marketing strategies are essential to successfully growing your law firm. But understanding how your current business development and marketing programs compare to similar firms and where to focus your efforts can be difficult.
That's why ALPMA has collaborated with industry experts to undertake research into the emerging trends for marketing and business development initiatives that can assist Australasian law firms to benchmark their efforts to similar firms and prioritise investment.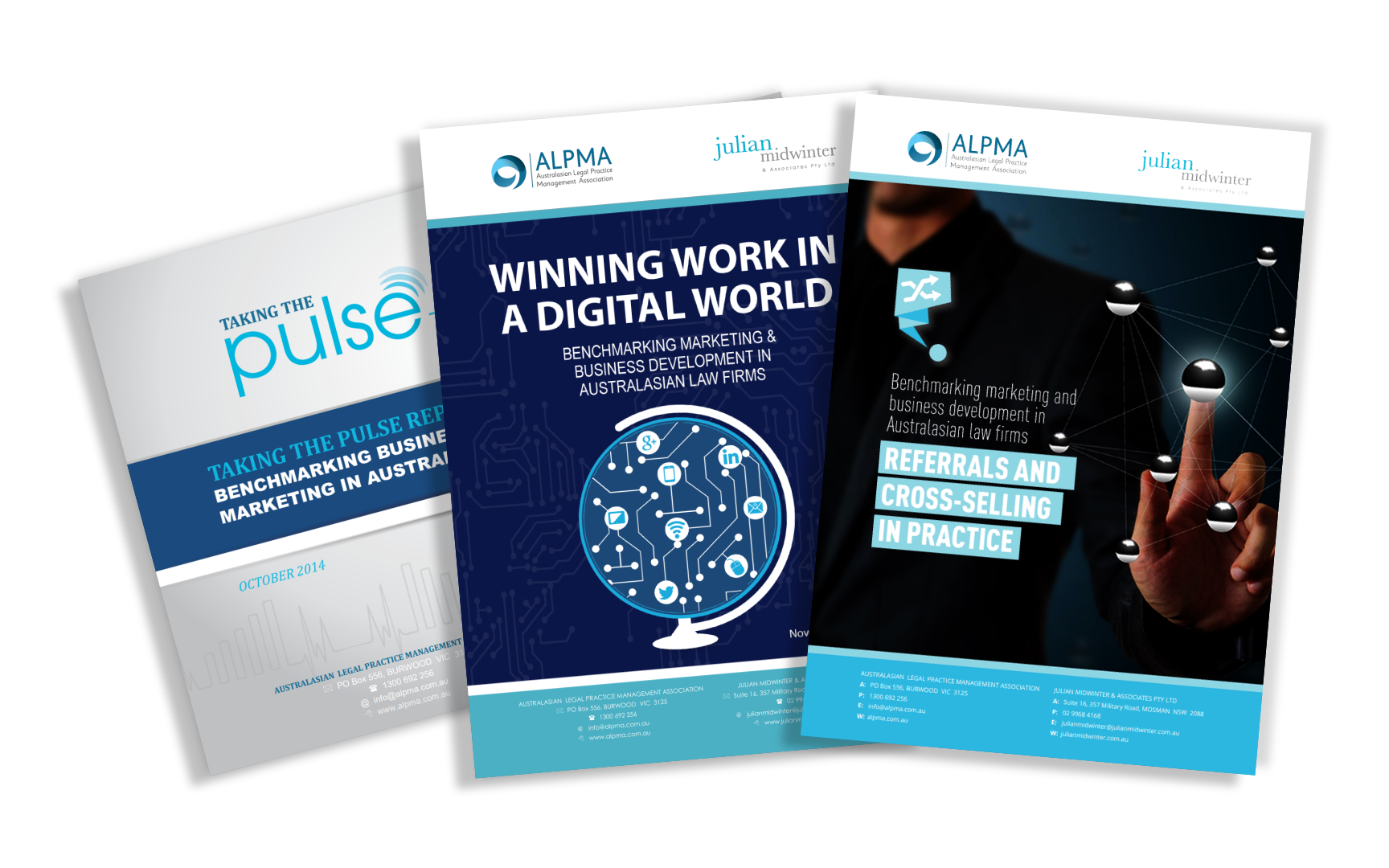 The research aims to help your firm understand:
What is 'best practice' for generating business from referrals and cross-selling
How your firm's referrals and cross-selling program compares to similar firms
Opportunities to improve your program and generate additional revenue.
2016 ALPMA/JMA Research: Referrals & Cross-Selling in Practice
Our research shows that law firms rate referrals and relationships as the most effective form of generating new business – so the 2016 ALPMA/Julian Midwinter & Associates (JMA) Marketing & Business Development Benchmarking research takes a deeper dive into this critical subject for law firm success.
123 respondents from a broad range of law firms across Australia and New Zealand participated in the research.   Participants who completed the survey have received the report via email. The research investigates:
firm referral sources and relationships
referral strategies and programs adopted by firms
internal cross-selling practices at law firms
recognition and reward structures for referrals and cross-selling
challenges and barriers for firm referral and cross-selling programs.
2015 ALPMA/JMA Research: Winning Work in a Digital World
The 2015 law firm marketing and business development research focused on understanding how well law firms are responding to the challenge of winning work in a digital world. The research explored which marketing and BD techniques (old and new) help law firms attract new clients and win new work, with a particular focus on identifying the most successful marketing and BD activities for generating new business enquiries.
More than 160 firms participated in the 2015 research.  Participants who completed the survey received a copy via email. The results will help your firm understand:
How good firms are at converting enquiries into clients
The most popular and effective online, digital and social media marketing and BD techniques and approaches
How focused firms are on client satisfaction
In-firm cultures and attitudes towards marketing and BD
How your firm's marketing and BD efforts compare to similar firms.
2014 ALPMA/JMA Research: Taking the Pulse
The online research was conducted in September, 2014, and attracted more than 150 participants from law firms across Australasia.  The final report Taking the Pulse: Benchmarking Business Development & Marketing at Australasian Law Firms is now available by completing the download form below.
Downloading the report will help law firms understand:
How do your marketing and business development investments and resources compare to similar firms
How do your marketing and business development processes compare to similar firms
What business development and marketing initiatives have been successful at Australasian law firms
Where law firms are investing their marketing and business development improvement efforts
What the key business development and marketing challenges are for Australasian firms
Firms and Individuals who participate in these surveys receive a complimentary copy of the research report.
Need more information?
If you have any questions about the research or need assistance, please contact our research team.
2023 HR Issues & Salary Reports are Now Available
Find out how your firm compares across Australia or New Zealand in staffing, salaries, remuneration benefits and bonuses.
This year's reports now come with access to interactive online salary data tables.
Purchase 2022 Reports Now