In this dynamic climate, the key to success lies in embracing new paradigms, adapting to change, and reimagining the future of legal practices.
This year's ALPMA Summit, themed "Embrace. Adapt. Evolve. The Sustainable Firm of the Future," underscores the need for law firms to proactively respond to market conditions and position themselves for long-term success.
Amidst this wave of change, cloud technology has emerged as a game-changer within the Australian legal landscape. Recognising its potential for efficiency and competitive advantage, SME legal firms have wholeheartedly embraced cloud solutions, paving the way for sustainability.
PracticeEvolve, in collaboration with Legal Practice Management, conducted a comprehensive survey to shed light on Australian legal firms' approach to cloud technology.
Cloud Technology Agenda: A Priority for Australian Law Firms
Over the past decade, cloud technology has gained significant acceptance within the SME legal community. A noteworthy 43% of Australian respondents have adopted a "cloud-first" approach, emphasising the move of all systems to the cloud, showcasing their proactive stance in leveraging cloud solutions to achieve their business objectives.
While only 36% of firms have fully migrated to the cloud, the research highlights that cloud technology is firmly on the agenda of all Australian legal firms. A quarter of firms are currently evaluating their business needs, and 39% are actively gathering information on vendors or selecting applications for migration. Regardless of their specific stage in the migration process, there is a collective commitment among firms to embrace cloud technology for long-term sustainability.

Motivations for Cloud Adoption
Australian legal firms acknowledge the potential benefits of cloud technology, demonstrating a keen focus on embracing change and adapting to innovative ways of conducting business. A significant proportion of the respondent pool, amounting to 50%, acknowledges that cloud technology reduces the necessity for onsite infrastructure. Additionally, 39% of firms value cloud solutions for their ability to facilitate data backup and disaster recovery, while 32% find utility in improved workforce mobility.
Among those opting for the cloud approach, a substantial 63% are primarily motivated by the pursuit of business efficiency and process improvement, without compromising on security and cost-effectiveness. Irrespective of their specific objectives, most legal businesses either have ongoing cloud investments or have planned for them, with 56% of respondents expressing confidence that their cloud investments will yield fruitful returns.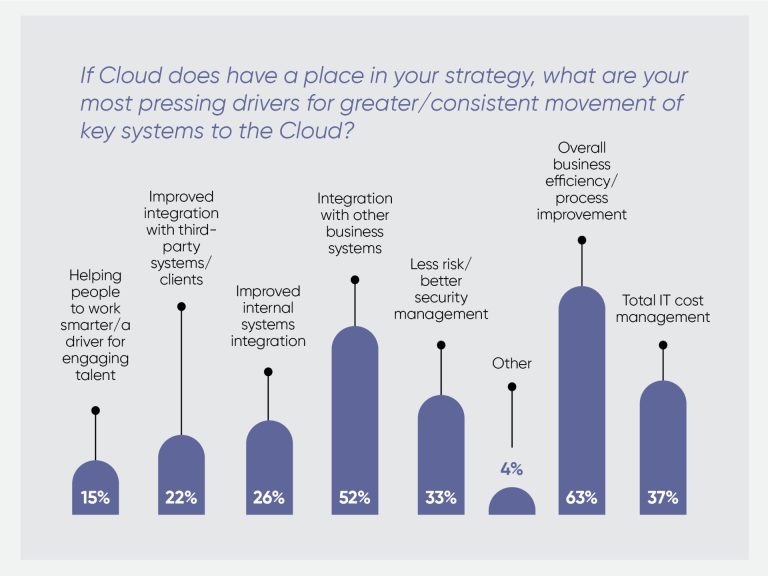 Cloud Solutions Transform Legal Work
Many survey respondents highlight how cloud technology plays a pivotal role in shaping the sustainable law firm of the future, enabling legal professionals to work efficiently and flexibly. With the ability to log into the system from various devices, lawyers can stay connected and productive while on the move, significantly simplifying their lives. This newfound flexibility and openness offered by cloud-based platforms present exciting possibilities for innovative client interactions, fostering a dynamic and adaptive approach to delivering legal services. As firms embrace this agility, they not only enhance their current operations but also lay the foundation for continuous innovation.
Moreover, the integration capabilities of cloud technology empower legal practitioners to access critical systems remotely as effectively as if they were in the office. According to the report, more than half (54%) of Australian respondents affirm the smooth remote access that cloud systems provide, breaking down barriers to location-dependent work and promoting a healthy work-life balance. With talent shortages posing a significant challenge for 44% of the respondents, prioritising flexible remote access becomes imperative in building a sustainable law firm. By doing so, firms can readily adapt and thrive amidst evolving market demands while successfully attracting and retaining experienced legal professionals.
Emphasising User Competency and Provider Support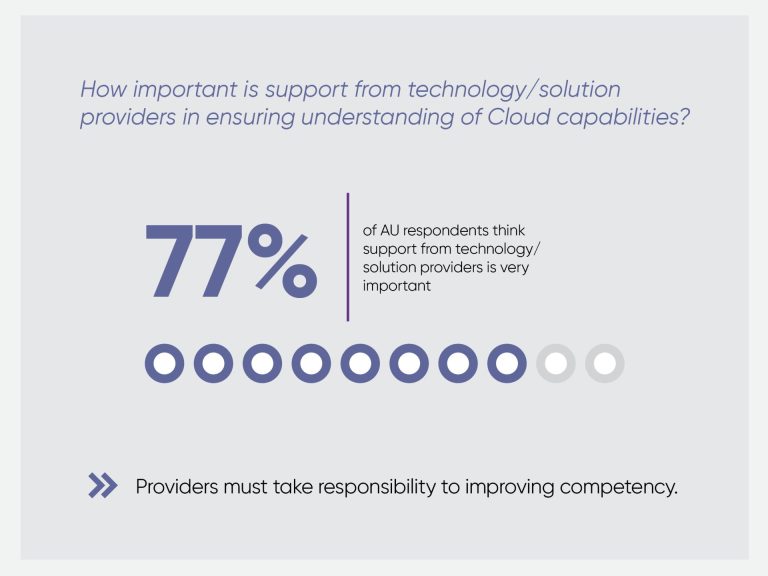 The report underscores the critical role of technological competency within firms in determining ROI expectations. To fully leverage the benefits of cloud technology, comprehensive training and a deep understanding of cloud capabilities are essential. While some firms reported having well-trained and proficient personnel, others expressed concerns about their staff's competency in cloud technology.
Surprisingly, less than a third (30%) consider their employees to be "sufficiently trained," with the rest falling into different categories ranging from "unsure" (22%) to "not trained at all" (15%).
To address these challenges, firms highlight the importance of support from cloud solution providers. In Australia, a significant 77% of firms emphasise the significance of provider support in ensuring their understanding of cloud capabilities, both for the firm and its employees. Additionally, the report stresses that Australian firms value open communication, flexibility, and proactive suggestions for value additions from their cloud vendors.
Adopting Cloud Based Legal Practice Management Software Made Simple
The research suggests that resistance to adopting cloud-based solutions in the market is often due to a lack of understanding about cloud technology, including unfamiliar terms, security worries, and potential benefits. Choosing the right partner helps firms navigate this path, enabling them to embrace and sustain changes driven by market shifts, internal developments, client demands, or staff needs. Smart partnership choices position firms for growth and success amidst dynamic changes, ensuring a more sustainable future.
 A. Transforming Staff Satisfaction and Efficiency: How Leanne Warren & Associates Leveraged EvolveGo's Connected Software
Leanne Warren & Associates, a criminal defence firm in Melbourne, faced productivity challenges and reduced staff morale due to outdated software and siloed work practices. They transitioned to EvolveGo, a cloud-based legal practice management solution from PracticeEvolve. EvolveGo's comprehensive functionality and effective communication from the sales team convinced them to make the switch. The firm quickly embraced EvolveGo's features, optimising operations and enhancing efficiency. The transformation resulted in increased staff satisfaction, improved client service, and enhanced productivity. Leanne Warren & Associates enthusiastically became advocates of EvolveGo, recommending it to others.
"Our experience with EvolveGo has been truly fantastic. Every single staff member has wholeheartedly embraced the change with genuine enthusiasm and without a single complaint. The level of satisfaction among the team is evident, reflecting the remarkable impact and value that EvolveGo has brought to our operations. The transformation we have undergone with EvolveGo has been fabulous."
Tracey Gulli, Practice Manager at Leanne Warren & Associates
Dive Deeper into the Case Study
 B. Leaving Legacy Systems Behind: Galbally Parker's Transition to EvolveGo's Cloud-Based Solution for Optimal Workflows
Galbally Parker Lawyers, a prominent criminal defence law firm in Melbourne, faced challenges with their outdated practice management system, hindering efficiency and remote work capabilities. They discovered EvolveGo, a cloud-based system with user-friendly features and accrual-based accounting functionality, as a modern solution that better fit their needs for sustainable growth. The implementation of EvolveGo streamlined operations, provided convenient remote access, and improved efficiency across various aspects of their processes. Galbally Parker recommend EvolveGo to other law firms due to its efficiency, modern features, and seamless workflows.
"In today's remote working world, having a modern, cloud-based solution without physical storage is a significant advantage. Our staff can now access everything offsite using their laptops, whether they're working from home, courtrooms, or any other location. Unlike our previous system that required a portal and VPN, EvolveGo provides an efficient remote work experience, eliminating the hassle and slowdowns."
Sheree Rossier, Executive Assistant & Office Manager at Galbally Parker Lawyers
Dive Deeper into the Case Study
Embracing the Sustainable Future with PracticeEvolve
As the Australian legal industry navigates a transformative era, cloud technology has emerged as a crucial enabler for sustainable success. Law firms that embrace the cloud revolution, adapt to evolving circumstances, and evolve their practices are poised to become the firms of the future.
The Legal Industry Outlook 2022/23: State of Cloud – From Migration to Realisation provides valuable insights for firms already invested in cloud technology or considering the move. To thrive in the digital age, having the right cloud solution is essential, and PracticeEvolve offers best-in-class cloud technology.
Our legal practice management software empowers firms with the functionality and flexibility needed to stay competitive and sustainable. At PracticeEvolve, we pride ourselves on our commitment to innovation and customer satisfaction. With our EvolveCommunity portal, we ensure that users are always equipped with the necessary skills and knowledge to leverage our software effectively. Our comprehensive support system keeps users fully competent and up to date with the ever-evolving features and functions of our platform, ensuring maximum return on investment for our clients.
With real-life success stories like Leanne Warren & Associates and Galbally Parker Lawyers, PracticeEvolve's cloud solutions have proven to transform staff satisfaction, enhance efficiency, and streamline various aspects of legal operations.
Learn more by visiting our website and join the ranks of forward-thinking firms that leverage PracticeEvolve for a sustainable future.