Lawyers are known for being delegation Kings & Queens, aren't they? Professionally, you are said to be the matriarchs and patriarchs of the efficiency kingdom. Your traditional model of a law firm lends itself to delegation being at the heart of all that you do. Junior lawyers are handed work by senior associates who are handed work by partners. It should be seamless, and you should get exactly what you ask for each and every time, right?
Yes, and yet, no. There is a marked difference between effective and empowered delegation, and ineffective, and disempowering delegation. Having spoken with some more junior legal professionals over the last year, their experience can be more of the latter, rather than the former.
Effective delegation is like a commercial workplace miracle promoting a myriad of wonderful workplace benefits like efficiency, instilling confidence in your team and upskilling team members to create new ways of working and creating growth.  Ineffective delegation is…well…an unreserved corporate nightmare.
Most leaders want things to work perfectly, and lawyers are well known for being professionally pedantic, because to a large degree they have to be. The reality is that this can also lead to a tendency to micro-manage their people. The job might be done well, but it sucks up all their leadership time and doesn't allow room for their people to develop, and makes people feel watched and disempowered. The "red pen of review" (or track changes for those more technologically advanced) is one of the most feared office implements in the legal firm world.
To be an effective leader, confront your fear of failure and trust your people. Lean into the risk that in the beginning it may not be easy, things may require a period of adjustment, but trust that the more effort you put in, the greater the rewards you will reap. In an incredibly busy and paced business like a law firm, where immense volumes of intricate and high-level work are churned out daily, how can you empower yourself to ensure that you team is getting all the right opportunities from delegated work and responsibility? How can you ensure they're not instead getting the downsides of fear and being too intimidated to ask for what they need to do the work better?
To do this successfully, you need to assign real, meaningful work to your people and give them the freedom to take risks, try new things and be ready to support them if they fail. For failure is an almost absolute and is a great opportunity for you to also refine how you are delegating, to accept that it may not be all their fault when things go wrong.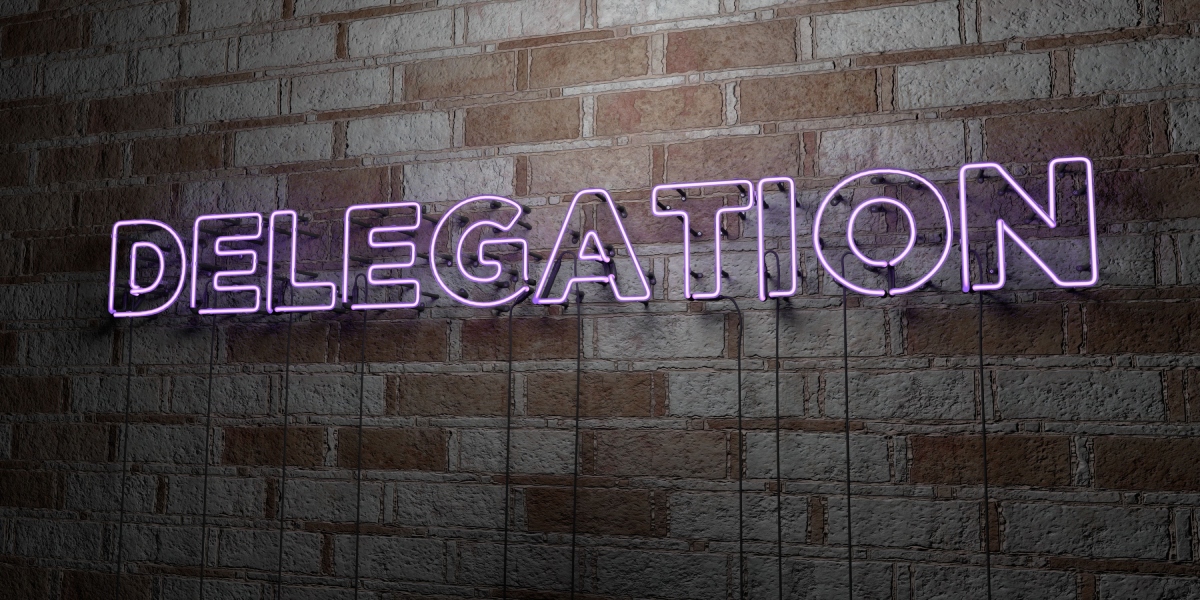 How to begin delegating with intent
To be successful at delegation, you must be open to change. No one will do things exactly as you would, this could actually be a good thing, but this is never more so than the first few times that they perform a task. I am aware most of you know this, but the feedback I have received over time is that oftentimes the instructions received, are not actually what the more senior practitioner wants because the instructions lacked the basics, such as purpose of the work, context for the work, and defining what finished looks like.  It's better to be elemental and instructional when delegating on something, or to someone new.
Spending time at the beginning giving full instructions, and seeking questions, is essential to the work product being of the quality you are seeking.
I recommend being open to learning to be flexible in your expectations, and also welcome that a new approach could be beneficial. Law firms are very traditional by nature, they are based on systems of precedents and well-established ways of doing things.
However, you don't necessarily need carbon copies of yourself for delegation to be a success. Indeed, for those of you at the beginning of your delegation journey (more junior practitioners or those with expanding teams), rather than expecting perfection (which is a misnomer anyway), ease yourself and your team into the habit of delegation. As you progress through the basic levels of delegation, beginning with smaller less valuable tasks, increase the level of difficulty and responsibility of the tasks or indeed responsibility for an overall area of oversight, that you delegate to your people.
As your team masters each level, all of you should grow in confidence and trust in one another and feel more comfortable with the delegation process. This makes everyone shine. Below are some steps that are often missed, but overall are the foundations of empowered delegation.
1. Review and provide meaningful and helpful feedback
The first stage of successful delegation is teaching your team how to read and assess a problem or situation. Empower them to see it from all angles and have them consider a problem and possible solutions and report back to you with their findings to ensure that they are on track. This elevates their confidence and can have the effect of calming your nervousness (which is also projected, and subsequently absorbed by them).
Small matter management and discrete tasks such as basic letter drafting, small memos and lower level applications are great ways to establish a baseline for what various team members are capable of. Ask them to avoid templates to really give you a clear picture of their abilities and any elementary things that don't accord with your stylistic nuances or legal requirements.
Take the time to review the documents or output with your team members, collectively or individually, and let them know your thoughts on their findings, and explain why you agree or disagree with their conclusions and proposed actions. It is really important to explain your reasoning's, for you and for them.
2. Recommendations based on the assessment
Once your team has learned how to complete discrete tasks and smaller matter management on non-urgent work, they are ready to move to the next stage and learn how to step up to greater levels of responsibility and analyse matters holistically and start to think more strategically.  Ask them to make specific recommendations of the best course of action to take.
Go over their suggestions with them and discuss why their conclusions would or would not work.  Provide them with tangible evidence of how or why something should be done a particular way if that is the case. For those of you who are litigators, this will be essential for you to explain. Try and remember that there was a day when you weren't familiar with all the things that you are now.  It can feel cumbersome, especially in the first little while, but this will soon shift.
3. Empower your people
Once you've given your people a framework for assessing problems, coming up with solutions and creating high quality work product, it's time to unleash them!  Allow them the freedom within reason to run matters, or various parts thereof, under their own steam.
Avoid the temptation to hover but do check in periodically to monitor their progress.
4. Recognise and reward success!
As members of your team become increasingly proficient in completing the projects, tasks and matters you have delegated to them, publicly recognise and reward their performance.
Look for ways to give them new opportunities to learn and grow. This is career development in action, and it empowers them to want to take calculated risks, which is how growth is achieved.  They will embrace autonomy and ownership and a sense of pride in their work.
Open communication, mutual trust and a willingness to cooperate and collaborate will go a long way in helping you and your team become more comfortable with the delegation process. In the end, successful delegation leads to improved outcomes in efficiency, effectiveness and performance for both you and your team!