Courageous conversations challenge your confidence and your communication skills, but once mastered, give you a powerful marketplace advantage. These are the conversations which lead to peak performance in your team and establish your firm at the top of your profession.
Courageous Conversation Defined
A courageous conversation involves emotion… sometimes a lot of emotion! It might be one that involves confrontation or one you don't want to have. Generally, these conversations make you feel uncomfortable or even catch you off-guard making you feel unprepared or even a little nervous.
For these reasons many people try to avoid such conversations. As you have probably noticed, no matter how deeply you hide your head in the sand, the need doesn't go away. It might even escalate if you leave the matter unresolved.
Susan Scott, author of Fierce Conversations says, "Our work, our relationships, and our lives succeed or fail one conversation at a time. While no single conversation is guaranteed to transform a company, a relationship, or a life, any single conversation can. Speak and listen as if this is the most important conversation you will ever have with this person. It could be. Participate as if it matters. It does."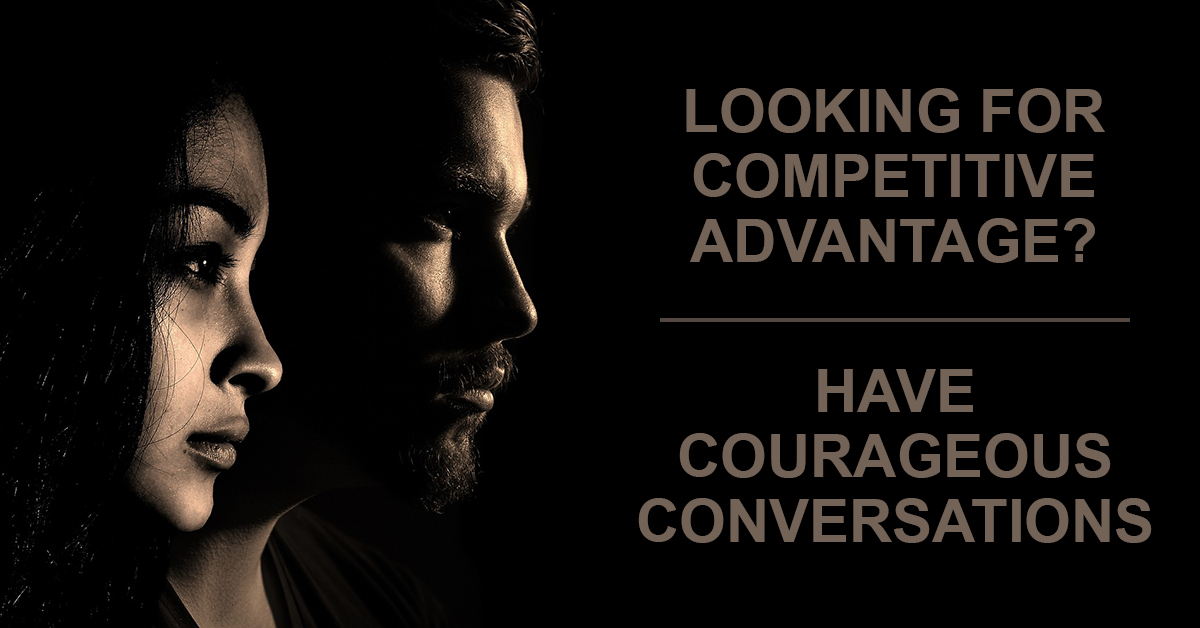 How do courageous conversations give you a marketplace advantage?
When you possess the skill of having the conversations which other people aren't — the difficult or delicate conversations they're avoiding — you're immediately ahead of the game. Your competitive advantage is created when you deal with people and talk through the issues which can make or break a team and business performance.
Mastering the art of courageous conversations builds relationships where people feel safe and valued and help you to gain their trust. Done well, courageous conversations create strong connections between people. People who feel connected are happier, more engaged and more confident. They work harder and contribute more. They're willing to exceed expectations because they trust and feel trusted in return.
These conversations are your opportunity to build deeper, more effective relationships with the people around you, and that includes your clients. Remember, we all prefer to do business with people we know, like and trust.
The payoffs include a productive team, excellent performance, greater marketplace impact, stronger client loyalty and a more profitable bottom line.
The goals of a courageous conversation
Unlike normal conversations, courageous conversations are structured and have a clearly defined purpose. Whether you're prepared for it or not, understanding the goals will help you manage:
to discover the other person's point of view and why it exists;
to show your understanding, gain their trust and lay the groundwork for an open, honest and collaborative conversation;
identify and agree on the gaps and work out the best action to take.
It's important to understand these conversations aren't about right and wrong; they are about differences in understanding and how to overcome them.
3 tips for conducting a courageous conversation
Courageous conversations take skill and strategy to win a good result and these three tips are key to a good resolution. Learn to manage your fears. The conversation may not be easy and you might be uncomfortable. In some cases, you might even find that you're in the wrong. It's quite reasonable to feel hesitant or ever afraid of these conversations when you first start having them. Focus on the benefits of the conversation. After all, if you don't deal with the issues, they will continue and might even get worse, becoming a distraction and leaving a negative vibe. However, once the issues are bought to light and talked about, you have the beginnings of a resolution.
Listen to truly understand. Become curious. Set your intent to listen to understand, not to agree or defend. Discover the intentions or the reasoning behind the action, rather than just talking about the results, especially if they're negative. People are good and intend to do the right thing, so credit them with that.
Be factual and honest. The key here is to avoid using critical or emotionally-laden language. Focusing on the facts as you see them gives you both something concrete to work on, particularly if one of you has misinterpreted them or missed vital information. Working with the facts removes the emotion and negativity, allowing you to look for resolution. When you express yourself honestly, your authenticity shows. Make no mistake; people can tell when you're being sincere and they'll respond to it even if they don't like what they must hear.
Courageous conversations are the game changers; the new currency in business, and your future results depend on it. Are you ready and willing to step up?